An absolute pleasure to be shooting outstanding products for I.O.Shen Knives with the talented Head Chef Dan Andree at The White Hart Preston Bissett.
A shoot showcasing the hard work and some behind the scenes shots of Chef Dan hard at work. He has an amazing detail to finish and a visual take of dishes. The detail, taste, colours and textures of his food was a delight to witness.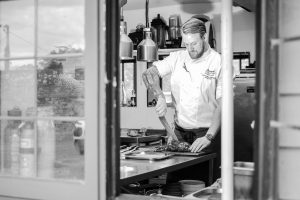 I get to meet and shoot with lots of foodie people, chefs and creators – it's great to see such drive and passion for creating not only great food but a total emersion of experience. A truly great guy and bloody wonderful Head Chef too. Thanks, Dan for a great shoot and food. All prepped with those wonderful I.O.Shen blades of course.
Those knives – https://ioshen.co.uk/
The Chef – https://www.instagram.com/tntchef_1/
The Venue – http://thewhitehart.pub/
Photography Guy – @RichardBudd from @DorsetFoodandDrinkPhotographer